About our Wholesale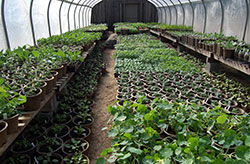 Left Field Farm grows certified organic annual, herb and vegetable plants for the local retail trade.  We aim to provide not only a wide selection of robust, beautiful plants, but also exceptional service to our customers. We know how important it is to keep your displays full during the short spring season.
We try to avoid all things plastic. Though we are not yet able to be completely plastic free – we use plastic carriers and trays -we try to reduce contributions to the waste stream, here on the farm and by our customers.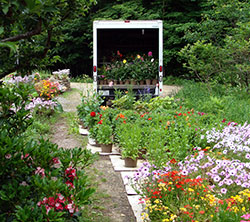 We have tested out many container products over the years, such as peat based, coconut based and manure based pots, but always come back to the Kord line of recycled paper products for their durability, plant performance and ability to decompose (yet slowly).
For pricing and delivery information, please call us at (413) 623-5137.